June 2018 Temple Bar, one week of music non stop ! 19 to 24 of June 2018.
New Sensation Night, 20/06/2018 10 PM
French Night, 21/06/2018
Metal night 22/06/2018
Punk Night 23/06/2018
The Beijing Underground Music Week will take place at Temple bar and present a variety of act every night.
Nocturnes曳取
Nocturnes曳取 debut LP, Lines Written in Code, is a "sensual concoction of haunting vocals, impeccably groomed arrangements and nuanced piano chords", an immediate opening statement of intent to the listener packaged in a sound that is all their own. Equal parts Foals-esque Indie Rock, Bonobo-inspired electronic beats and Coldplay-driven pop sensibilities, Lines Written in Code showcases one of the Chinese music scene's brightest new acts.
Nocturnes曳取的首张正式专辑,《密眸》(Lines Written in Code),有媒体形容是"醉人的器乐声场与流连的人声无缝融合而营造出的感官极致体验。"他们的音乐对于不同的听者来说,都是一场完全个人化的听觉盛宴。曳取的音乐被乐迷认为兼顾了Foals的情怀力道,Bonobo的灵动迷幻,以及Coldplay的流行张力。《密眸》这张专辑也被很多人看作是中国独立音乐全新面孔中的惊鸿一瞥。
http://www.thatsmags.com/guangzhou/post/22814/the-nocturnes-beijing-indietronica-duo-on-their-first-china-tour
Swarrm
SWARRM 撕妄(Alt-Rock, Prog-Rock, Post-Punk, Industrial Metal)
乐队追求炮制完美作曲和真实乐手演奏,其音乐会让人感觉到真实、自由、渴望美好、黑暗、压力和睿智,隐藏在诡秘的音效后的常常是令人心惊的恐怖。
SWARRM乐队成立于2017年,风格融合了:另类摇滚 (Alternative Rock), 前卫摇滚 (Progressive Rock), 工业金属 (Industrial Metal), 自由即兴 (Free Improvisation), 实验噪音(Experimental Noise), 后朋克 (Post Punk)…
Djang San + Band
在音乐的道路上,张思安大部分时间独自前行,他曾以(几乎)每月出版一张专辑而闻名。2013年他组建了新的乐队。在这三人组合中,他与一名贝斯手和一名鼓手合作,同时将中国乐器"中阮"和"琵琶"置于乐队的中心地位。
视频:https://www.youtube.com/watch?v=lolGEKYhKvA
他无疑大大革新了这一中国传统乐器的使用。乐队整体风格多样,像是带有中国风格的民谣,兼具摇滚、爵士、电子等其他乐风。张思安原名让-塞巴斯蒂安·艾利。他于2000年踏上中国的土地。2010年,他以"保险超人乐队"参加了中国摇滚大赛, 并在中国大陆和香港地区赢得冠军。他一直在电子和实验音乐领域孜孜不倦地探索。他的音乐很难归类。他是第一个用中阮作曲的外国人,也是第一位使用这一乐器演奏爵士乐和摇滚乐 的音乐家。
Djang San + Band is built around the electric pipa and electric zhongruan, two ancient instruments modified to enter the 21st century.
Re-inventor of Chinese classical instruments zhongruan and pipa, composer, guitar player, one man orchestra, explorer of new sounds, Djang San has been doing music in Asia since the year 2000. An artist with many faces, Djang San has also won the battle of the bands in Mainland China and Hong Kong against about 100 bands in the year 2011.
Djang San has so far released 40 albums, the music styles of the albums range from Jazz to electro, rock, classical music, experimental music and more. Creator of "A theory of intelligence", the personality of Djang San takes different shapes in his different projects.
Scream Maker
Scream Maker – a heavy metal band based in Warsaw, Poland, established in 2010. Since then the band has released three CD's and played over 250 shows in Central Europe and China. Scream Maker is considered to be one of the brightest hopes of Polish heavy metal. The crew cooperated with, inter alia, Jordan Rudess (Dream Theater), Alessandro Del Vecchio (Hardline, Revolution Saints, Jorn Lande), Rosław Szaybo (graphic designer for Judas Priest) and opened or shared stage with: Motorhead, Judas Priest, Motorhead, Slayer, Saxon, Black Label Society, Korn, Primal Fear, Paul Di'Anno, Tim Ripper Owens, Blaze Bayley, Turbo and many more. Scream Maker is also known for organizing Doładowanie Fest, a festival promoting young bands, or 4 editions of "King of Rock and Roll", a show dedicated to Ronnie James Dio. Scream Maker songs have been aired on various nation vide radio channels: Antyradio, PR4, PR3.
NEUROOT
Hailing from Holland, founded in 1981 by bassplayer Marcel and arguably one of the best bands from the golden age of European HC Punk, an age roughly between 1984-1990.
Known for their brutal Dbeat style with awesome (distorded bass) playing yet relative accomplished overall musicianship and songwriting, a not so common trait in the genre.
Toured the continent and the UK in the eighties extensively and did a couple of Vinyl releases back than from which the 2012 (US) Havoc records  'Right is Might'  rerelease got the most raving worldwide reviews and acclaim.
Set to be released on the famous US  Pusmort records back in 1986 Pushead, labelowner and friend of Metallicas, and soon to be  recordsleeve designer, told them "the Guys from Metallica were over at my house and  they really liked your record"
…as did everybody else worldwide.
To this day the record has been branded "insterstellar", amongst others, and "impossible to do again"
This release spawned the  underground 'hit 'song (in German) "(Wir) sind die Ratten vom Müll' which featured in a propaganda clip for the German punk (mock) political party 'Die Anarchistiche Pogo Partei Deutschland (APPD)' which was aired regularly nationwide in the nineties.
Originally a four piece band the band resurfaced for an Amsterdam Paradiso gig and Dutch Punk Sampler in 2013 as a three piece with original founding members and 'artistic' core Marcel and Ed on bass, guitar and vocals, completed with Ares on drums.
Sparked by the sheer new energy the band is gigging regularly, caracterised as an energetic version of the eighties mark and is set to release a new record beginning of 2018.
According to US fanzine MaximumRocknRoll (MRR) which reviewed the 2009 rerelease of the 'Macht Kaputt" LP with this conclusion:
" ..if you are buying only one reissue this year, than this is the one to get"
and concluded their MRR review of the 2012  'Right is Might' rerelease on Havoc records (US) with this:
"I seriously can't listen tot his sitting down…- I have to get up and move around!
 This is mandatory for fans of hardcore punk!"
Sino Hearts
 Sino Hearts: THE SINO HEARTS
(译中国心或赛诺之心)乐队2014年成立于奥地利维也纳,由前奥地利77朋克乐队FRANKENSTYLE 和 雷蒙斯乐队DEECRACKS前成员钟无力组建并担当创作以及主唱,由于音乐上深受RAMONES,THE REAL KIDS,
THE BOYS, BUZZCOCKS, FLAMIN'GROOVIE等结合了七十年代英式朋克以及六十年代利物浦BEAT, Power Pop,九十年代日式车库复兴等诸多元素令乐队与其他复古流行乐队区别开来。
2016年钟无力回国发展后对乐队人员进行了调整,担当过波特兰The Cry以及车库朋克Piss Test,加拿大The Mandates,Mother's Children 以及The Mandates,俄罗斯摩登团The Riots,澳大利亚朋克乐队The Prowlers,匈牙利朋克乐队THE DERKOVBOIS,中国牙龈出血,生命之饼,台湾BB弹,伤心欲绝等嘉宾,2016年在奥地利,德国,匈牙利,捷克以及中国19站巡演,2017年台湾巡演。
The Sino Heart are a powerpop band from Beijing founded in Vienna, Austria in 2014 by Zhong who previously was involved in Viennese Punk Bands : Frankenstyle, Deecracks, Maltschicks Molodoi, 2nd Class Subsistutes. 2014 NYC based Real Punk Radio played their first single "Terminal Crisis" and over the last 2 years the band has toured in Austria, Hungary, Germany, China(HK,Taiwan) and has been opening for bands like The Cry(US), Mandates, Mother's Children(CAN), Piss Test(US), The Riots(Rus), Ajinai(CN), Prowlers(CAN), SMZB(CN), Gum Bleed(CN). Musically they are heavily influenced by early Punk Rock or RNR bands like the Boys, the Barracudas, Buzzcocks, the Blue Hearts(JP), Registrators(JP), Joyside(CN), Real Kids, Ramones, Purple Hearts, Modernettes etc.
On the inheritance of classic rock'n roll beat the sino hearts are more intended to brand a "new-old school" Sound.
Music: https://www.facebook.com/sinohearts http://thesinohearts.bandcamp.com/ Video: https://www.youtube.com/watch?v=updpsUL3d30 https://www.youtube.com/watch?v=9CvRNyKG9h8 试听: https://site.douban.com/sinohearts/ http://i.xiami.com/sinohearts https://thesinohearts.bandcamp.com/ http://music.163.com/#/artist?id=12138435
视频: https://v.qq.com/x/page/p0347czcpdp.html https://v.qq.com/x/page/a0334da6gxg.html https://v.qq.com/x/page/c0358cm71yn.html https://v.qq.com/x/page/c0340032bi7.html  
Oldy Baby
Three outstanding musicians from the United States, Finland, and China have hidden their skill in instrumental music to the utmost simplicity and created rough rock music that looks like a "fool", only to restore the original state of rock music. The three old boys did not care so much. They were happy on the stage.
The Last Resort
成立于2012年12月,新一代北京金属硬核生力军。几个兄弟选择用硬核音乐来诠释自己的生活方式与态度。这里只关于友情、亲情、快乐和梦想,与其他的无关。
The Last Resort-Beijing based Hardcore Band. TLR exemplifies some of the most malicious and technical metallic hardcore out there in a devastating way all their own, with penetrating harshness of masters Merauder, Cold As Life and All Out War taking on more metallic attributes of early Bolt Thrower, Cannibal Corpse and Sepultura, delivering a modern, punishing metallic groove parallel to other acts associated with TLR's tight-knit brotherhood.
Beijing Metalic Hardcore Band
RHONDA
Rhonda is a music project started in 2014 in Beijing by 4 friends coming from Italyand USA. Drawing influences from post-rock, post-punk, progressive metal and math rock, they have dedicated themselves to create instrumental music which combines melody and aggression. After a couple line-up changes following the departure of two of their original members, the band now consists of Tommaso (guitar), Nico (bass), Yiyi (drums), Antoine (guitar).Rhonda 成军于2014年,由来自意大利和美国的4位朋友组成。受后摇滚,后朋克,前卫金属和数学摇滚影响,他们致力于创造器乐音乐,将旋律和攻击性结合在一起,席卷了京城各个音乐现场。在两位原始成员离开后,现在乐队由 Tommaso (吉他), Nico (低音), Yiyi (鼓), Antoine (吉他) 组成
ACID ACCIDENT
成立于2016年夏天的一次心血来潮又深思熟虑。是国内新一代器乐摇滚风格中 极具先锋性的乐队"酸" 代表他们音乐的一种感觉,融合了迷幻、后摇、即 兴、funk、fusion等各种音乐风格,不拘一格,令人耳目一新不同于多数器乐乐 队在乐器上的堆砌,乐队成员仅三人,用简单的三大件搭建丰富的听觉体验,打破 摇滚乐的常规,将每一件乐器都发挥到极致如果你的耳朵已经听够了套路化的 音乐,这会是一次奇妙的听觉冒险
Acid Accident
Formed in 2016, Acid Accident is an instrumental trio
bringing together a range of influences to create an ambient, post-rock sound experience.
吉他/guitar:映红贝斯/bass: 骁子 鼓/drums: Lukas Thibaut
风格/genre:独立/indie – 后摇/post-rock – 融合/fusion
MIRACLE POT
Miracle Pot乐队,成立于2017年4月份。乐队风格为纯音乐形式的 Fusion Jazz,Smooth Jazz。乐队的成员均为北京现代音乐学院的毕业生与在校生。对于音乐的创作来说,我们觉得就是融入自己喜欢的元素,自己的感受,去做自己最喜欢的东西,就像是去制作一个人完美的情人一样。音乐对我们来说就像是能够证明自己生命存在的意义。
Liane Halton
Having completed a B. Mus. in Composition and Classical Guitar at Rhodes University in South Africa in 2012, Liane moves between contemporary world, classical and jazz styles. She is currently the bassist for the Surf band "Boss Cuts", and composes for the classical guitar.
Liane Halton 于2012年在南非的 Rhodes 大学完成了作曲与古典吉他的学习,之后 Liane变在演奏中融合了现代、古典与爵士的风格。她现在是 Boss Cuts 乐队的贝斯手,同时也吉他进行作曲。
Dawei and Social Poets 大卫与社会诗歌
他获得过数不清的 Freestyle Battle 冠军头衔,他是崔健最喜欢的说唱歌手。大卫,绝对的疯逼一个。是武术老师,诗人,影像工作者,历史评论员,文化激进分子,疯狂说唱者。他像一个同时自我复制又自我反对的拄杖教父,在破布与华服、疲惫与矍铄的极端中,甩着双节棍肆意穿梭。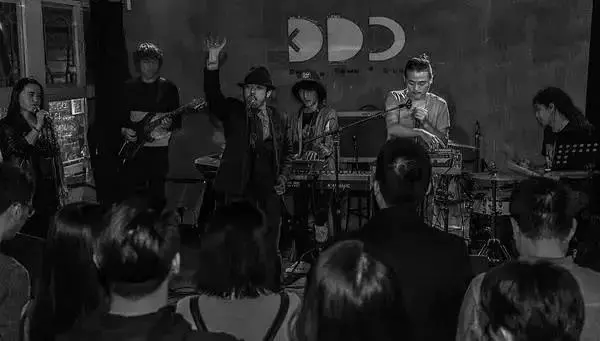 His music rhymes with violence, acme, affection, literature profoundness, and is full of dramatic tension. free-style rapping is one of his signature. Every time Da Wei's on stage, he surges a poetic tsunami, sweeping the crowd and no one is left to dry.
SHAS
SHAS(Stinky Human Abuse to Subsist) is a sludge doom metal band from Beijing. Alcohol, as the carrier of confusion, will help you to handle the burden of your miserable existence